Hinduism: Sanātana Dharma
Hinduism (Sanskrit Hindū Dharma, also known as Sanātana Dharma, and Vaidika Dharma) is a religion originating in the Indian subcontinent, based on the Vedas, and it is the oldest of all living religious traditions still practiced today.
Hinduism has its origins in such remote past that it cannot be traced to any one individual. Some scholars view that Hinduism must have existed even in circa 10000 B.C. and that the earliest of the Hindu scriptures – The Rig Veda – was composed well before 6500 B.C. The word "Hinduism" is not to be found anywhere in the scriptures, and the term Hindu was introduced by foreigners who referred to people living across the River Indus or Sindhu, in the north of India, around which the Vedic tradition is originated.
The term, Hinduism, is heterogeneous, as the Hindu tradition consists of several schools of thought. Many Hindus, inclined to Advaita venerate an array of deities, considering them manifestations of the one Supreme Reality, Brahman, while many others focus on a singular concept of Brahman. The spiritual tradition of Hinduism is solely responsible for the creation of such original concepts and practices as Yoga, Ayurveda, Vastu, Jyotish, Yajna, Puja, Tantra, Vedanta, Karma, [[[Atman]] etc.
What Is Hinduism?
It should be noted that, defining Hinduism presents unique difficulties. This difficulty arises from its universal world-view as it has concerned itself largely with the human situation rather than the Hindu situation. Instead of basing its identity on separating Hindu from non-Hindu or believer from nonbeliever, Hinduism has sought to recognize principles and practices that would lead any individual to become a better human being and understand and live in harmony with dharma.
Hindus themselves prefer to use the Sanskrit term sanātana dharma for their religious tradition. The distinction of dharma from the Western sense of religion is crucial to understanding Hindu religious identity. To the extent that Hinduism carries with it the Western meaning of being a religion the words distort Indian reality. In the West a religion is understood to be conclusive that is, it is the one and only true religion. Second, a religion is generally exclusionary - that is, those who do not follow it are excluded from salvation. Finally, a religion is separative - that is, to belong to it, one must not belong to another. Dharma, however, does not necessarily imply any of these.
Sanatana Dharma, meaning "Eternal or Universal Righteousness" is the original name of what is now popularly called Hinduism. The word sanātana, meaning immemorial as well as eternal, emphasized the unbroken continuity of the Hindu tradition. Sanatana Dharma comprises of spiritual laws which govern the human existence. Sanatana Dharma is to human life what natural laws are to the physical phenomena. Just as the phenomena of gravitation existed before it was discovered, the spiritual laws of life are eternal laws which existed before they were discovered by the ancient rishis (sages) for the present age during the Vedic period. Sanatana Dharma declares that something cannot come out of nothing and, therefore, the universe itself is the manifestation of the Divine being.
The Hindu tradition encourages Hindus to seek spiritual and moral truth wherever it might be found, while acknowledging that no creed can contain such truth in its fullness and that each individual must realize this truth through his or her own systematic effort. Our experience, our reason, and our dialogue with others—especially with enlightened individuals—provide various means of testing our understanding of spiritual and moral truth. And Hindu scripture, based on the insights of Hindu sages and seers, serves primarily as a guidebook. But ultimately truth comes to us through direct consciousness of the divine or the ultimate reality. In other religions this ultimate reality is known as God. Hindus refer to it by many names, but the most common name is Brahman.
Hindu Concepts and Teachings
Because defining Hinduism is so difficult and because we have called it the sum of the belief and practices of Hindus, it is best to approach Hinduism through its teachings.
Within Hinduism there are various schools of thought, which Hindu scholars have systematized in different ways. All of these schools have enriched Hinduism with their individual emphases: Nyāya on rigorous logic, Vaiseshika on atoms and the structure of matter, Sānkhya on numbers and categories, Yoga on meditation techniques, Mīmāmsā on the analysis of sacred texts, and Vedānta on the nature and experience of spirituality. Their teachings are usually summarized in texts called sūtras or aphorisms. These sūtras can be memorized easily and recited as a means of gaining spiritual focus.
1. Brahman: The Ultimate Reality
Various schools have contributed to Hindu thought, each school with a different emphasis. The school known as Vedānta has been the standard form of intellectual Hinduism. According to Vedānta, the highest aim of existence is the realization of the identity or union of the individual's innermost self (ātman) with the ultimate reality. Although Vedānta states that this ultimate reality is beyond name, the word Brahman is used to refer to it.
Whether this ultimate reality is itself ultimately without distinguishing attributes (nirguna) or with personal attributes (saguna) has been a subject of extensive debate among Hindu scholars. To be ultimate Brahman must transcend (exist above and beyond) all limiting attributes, such as name, gender, form, and features. But how can the human mind, with its limitations, conceive of this transcendent reality? Human comprehension requires a more personal reality, with attributes.
Saguna Brahman is also called Ishvara, a name best translated as "Lord." A quotation attributed to 8th-century Hindu scholar Shankara illustrates the subtlety of these ideas: "Ishvara, forgive these three sins of mine: that although you are everywhere I have gone on a pilgrimage, although you are beyond the mind I have tried to think of you; and although you are ineffable [indescribable] I offer this hymn in praise of you."
Brahmā, Vishnu, and Shiva: Aspects of Brahman
Saguna Brahman—that is, Brahman with attributes—generally takes the form of one of three main Hindu deities: Brahmā, Vishnu, or Shiva.
These personified forms of Brahman correspond to three stages in the cycle of the universe. Brahmā corresponds to the creative spirit from which the universe arises. Vishnu corresponds to the force of order that sustains the universe. Shiva corresponds to the force that brings a cycle to an end—destruction acting as a prelude to transformation, leaving pure consciousness from which the universe is reborn after destruction. Other forms of Ishvara widely worshiped by Hindus are Shakti, the female aspect of divinity, and Ganesha, the elephant-headed deity associated with the removal of obstacles.
Brahman also may choose to take birth in a knowable form, or avatar (incarnation), to uphold dharma and restore balance to the world. Krishna, a well-known avatar of Vishnu, appears at times to save the world. Rāma, another well-known avatar of Vishnu, is the subject of the Hindu epic Rāmāyana (Way of Rāma). Whether nirguna or saguna, Brahman represents the ultimate reality (sat), ultimate consciousness (sit), and ultimate bliss (ānanda).
The majority of Hindus choose a personal deity, a saguna form of Brahman with whom they can feel a direct personal connection. Devotion to this deity can take a number of forms, including prayer, ceremonial worship, chanting of the deity's name, and pilgrimage to sites sacred to the deity.
Ishvara
When God is viewed as the supreme personal being (rather than as the infinite principle) God is called Ishvara ("The Lord";), Bhagavan ("The Auspicious One";), or Parameshwara ("The Supreme Lord"). Ishvara thus refers to the personal aspect of God in general; it is not specific to a particular deity. Ishvara transcends gender, yet can be looked upon as father, mother, friend, child, or even as sweetheart. Some schools of Hindu philosophy do not believe in Ishvara, while others interpret Ishvara in different ways. Some schools do not distinguish between Ishvara and Brahman. The Dvaita school holds that Ishvara is not incorporeal, but is infinite and a personal being.
Devas and Devis
The Hindu scriptures also speak about many celestial entities, called Devas ("The shining ones", also called devatās). The word Devas may be translated into English as gods, deities, celestial spirits or angels. The feminine of deva is devī.
The Vedas and Purānas depict traditional stories about individual devas. The latter lauds the Trimurti of Mahādevas ("Great Gods"), which are the three aspects of God, Brahmā, Vishnu and Shiva. Numerous other Devas have been worshipped throughout Hinduism's history. The devas are an integral part of Hindu culture and are depicted in art, architecture and through icons. In their personal religious practices, Hindus worship primarily one or another of these deities, known as their iṣṭa devatā, or chosen ideal. The particular form of God worshipped as one's chosen ideal is a matter of individual preference and needs, influenced by regional and family traditions.
2. Ātman: The Innermost Self
We as individuals are also a part of this changing universe. Our bodies are constantly undergoing change, while our minds, formed of thoughts and feelings, are also in a state of flux. According to Vedānta, however, our self consists of more than mind and body. At its core lies the unchanging ātman, our innermost, transcendental self, as opposed to the material self (our body, thoughts, and feelings) that is part of the universe. The ātman is our true self. But we lose sight of it because of our passionate involvement with our material self and its search for happiness in this universe. The universe can never provide perfect and permanent happiness, however, because it, like our material self, is in a state of constant flux. We attain true happiness only through an awareness of our ātman and the discovery of its true relationship with Brahman.
By achieving awareness of our ātman and its unity with Brahman, we attain not only happiness, but also moksha, or liberation. But liberation from what? At one level, the liberation is from unhappiness, but the answer provided by Vedānta Hinduism goes deeper: Moksha is liberation from a chain of lives.
3. Samsāra: The Chain of Lives
We normally think of ourselves as coming into being when we are born of our parents and as perishing when we die. According to Hinduism, however, this current life is merely one link in a chain of lives that extends far into the past and projects far into the future. The point of origin of this chain cannot be determined. The process of our involvement in the universe—the chain of births and deaths—is called samsāra.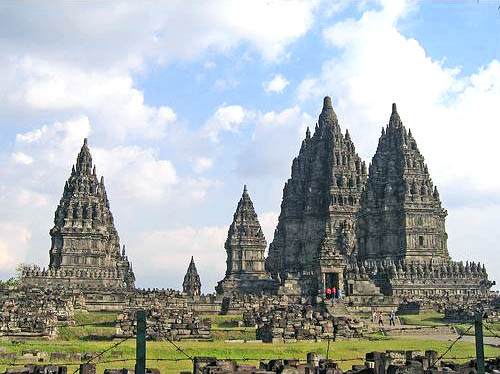 Samsāra is caused by a lack of knowledge of our true self and our resultant desire for fulfillment outside ourselves. We continue to embody ourselves, or be reborn, in this infinite and eternal universe as a result of these unfulfilled desires. The chain of births lets us resume the pursuit. The law that governs samsāra is called karma. Each birth and death we undergo is determined by the balance sheet of our karma—that is, in accordance with the actions performed and the dispositions acquired in the past.
4. Karma: Action and Its Consequences
Karma is a crucial Hindu concept. According to the doctrine of karma, our present condition in life is the consequence of the actions of our previous lives. The choices we have made in the past directly affect our condition in this life, and the choices we make today and thereafter will have consequences for our future lives in samsāra. An understanding of this interconnection, according to Hindu teachings, can lead an individual toward right choices, deeds, thoughts, and desires, without the need for an external set of commandments.
The principle of karma provides the basic framework for Hindu ethics. The word karma is sometimes translated into English as "destiny," but karma does not imply the absence of free will or freedom of action that destiny does. Under the doctrine of karma, the ability to make choices remains with the individual.
We are subject to the "law" of karma just as our physical movements on earth are subject to the law of gravitation. But just as the law of gravitation does not take away our freedom to move about, the doctrine of karma does not leave us unfree to act. It merely describes the moral law under which we function, just as the law of gravitation is a physical law governing our being.
When we cause pain or injury, we add to the karmic debt we carry into our future lives. When we give to others in a genuine way, we lighten our karmic load. In the Bhagavad-Gītā, an important Hindu text, Krishna states that the best way to be free of debt is by selfless action, or by dedicating every action as an offering to Krishna himself. In addition, human beings can purify themselves of karmic debt through different yogas (disciplines), kriyās (purification processes), and bhakti (devotions).
5. Purusharthas: Stages or Goals of Life
Classical Hindu thought accepts two main life-long dharmas: Grihastha Dharma and Sannyasin Dharma.
The Grihastha Dharma recognize four goals as noble; these are known as the puruṣhārthas, and they are:
1. kāma: Sensual pleasure and enjoyment
2. artha: Worldly prosperity and success
3. dharma: Following the laws and rule that an individual lives under
4. moksha: Liberation from the cycle of samsara[39][40]
Among these, dharma and moksha play a special role: dharma must dominate an individual's pursuit of kama and artha while seeing moksha, at the horizon.
The Sannyasin Dharma recognizes, but renounces Kama, Artha and Dharma, focusing entirely on Moksha. As described below, the Grihasthi eventually enters this dharma as an eventual stage of life. However, some enter this stage immediately from whichever stage they may be in.
Hindu Scriptures
Although Hindu tradition maintains that the ultimate reality lies beyond all scriptures, it is equally convinced that the scriptures help people orient their minds and lives towards Brahman. This attitude has given rise to a body of sacred literature so vast that by one calculation it would take 70 lifetimes of devoted study to read all of it.
1. The Vedas
The four Vedas constitute the most important body of sacred Hindu literature, at least in theory. Other sacred literature, especially the Hindu epics, may be more popular with readers, but the Vedas, written in the ancient Sanskrit language, are the oldest and most respected scriptures. They are separately titled the Rig-Veda, Yajur-Veda, Sāma-Veda, and Atharva-Veda, and collectively referred to as the Veda.
Each of the Vedas can be divided into four types of texts, which are roughly chronological in order: mantra or samhitā, brāhmana, āranyaka, and upanishad. The mantra or samhitā portion largely consists of hymns addressed to the various deities. The brāhmana texts gather the authoritative utterances of brahmans (those with knowledge of Brahman, the ultimate reality) and describe the rituals, chiefly sacrificial offerings, in which the hymns are employed. The third section consists of āranyakas, or forest texts, presumably composed by sages who sought seclusion in the forests. The last section consists of the Upanishads, philosophical texts that have an air of mystery and secrecy about them.
2. Shruti and Smriti
Hindu scriptures can be classified into two types: shruti and smriti. Shruti, meaning "heard," may be thought of as revelation or eternal truth, whereas smriti, meaning "remembered," is comparable to tradition. By distinguishing that which is eternally true from that which holds true for a specific time and culture, the categories of shruti and smriti enable Hindus to reform outdated practices while remaining faithful to Hinduism's essence. Where there is a conflict between the two, shruti takes precedence over smriti. The Vedas constitute shruti, whereas there are many different smriti texts.
The Vedas correspond, among the Hindus, to the Bible among Christians and the Qur'an among Muslims. However, unlike the revealed texts of Christianity and Islam, whose source is considered to be God speaking through the son or the prophet, the Vedas have no author. According to Vedānta, shruti is revelation without a revealer. Because in Hinduism the universe is without beginning or end, the Vedas appear along with creation at the beginning of each cycle of time. Then Brahmā, who presides over the remanifestation of the universe, recites the Vedas and sages hear them anew. These divinely heard scriptures are then transmitted orally from master to disciple.
The Vedas as also called shruti because they are divinely "heard" by the sages at the beginning of a cycle; and also because they are transmitted orally from master to disciple thus once again justifying the meaning of shruti as audition.
The word smriti is applied to a vast category of literature in Hinduism. Unlike shruti, Sanskrit scripture without an author, smriti is considered to have an author and may even be written in one of the regional languages of India.
One category of smriti consists of more than 20 law books that lay down in detail the rules to follow in life, especially the rules that pertain to varna (social order) and āshrama (stages of life). Another category includes texts called Purānas, which deal with the lives of the gods and celestial beings. There are 18 Purānas, and they can be classified according to which of the three gods of the Hindu trinity they focus on—Brahmā, Vishnu, or Shiva. The most famous of these is the Bhāgavata Purāna, which deals with the life of Krishna, an avatar of Vishnu, in the pastoral surroundings of Vrndāvana. A third category of smriti consists of two texts of legendary history: the Rāmāyana and the Mahābhārata. These are the two well-known epics of Hinduism. Scholars believe the Rāmāyana assumed its present form between 300 bc and ad 200, while the Mahābhārata evolved over a period extending from about 400 bc to about ad 400.
Rāmāyana
The Rāmāyana of Vālmīki consists of about 24,000 verses and describes the life of Prince Rāma, an incarnation of Vishnu. The author, Vālmīki, according to later tradition, belonged to the shūdra varna and made his living by robbing travelers. After an encounter with the sage Narada, Vālmīki turned his life around and became a poet and scholar. Classical Hinduism recognizes him as a brahman and as India's first poet. Rāma and his wife Sītā embody virtue and righteousness, and their lives demonstrate dharma in various spheres of activity. Their life stories contain lessons for Hindus on ideal behavior in various roles, such as son, brother, wife, king, and married couple. Rāma's reign ushers in a golden age, and the expression Rāma-rajya (rule of Rāma) describes the best of times in which the divine presence rules on Earth.
Mahābhārata
The Mahābhārata, an epic story of 100,000 verses, is attributed to a sage named Vyāsa and considered to be the longest poem in the world.
It traces the descendants of two sets of cousins, the Kauravas and the Pāndavas, whose disputes eventually lead to the Mahābhārata war. Krishna, an avatar of Vishnu, is central to the story. Like the Rāmāyana, the Mahābhārata addresses many questions related to dharma and the actions of individuals and society. These discourses have provided inspiration for Hindus in many areas of life.
Bhagavad-Gītā
One part of the Mahābhārata, the Bhagavad-Gītā, functions virtually as a text on its own in Hinduism. On the eve of the Mahābhārata war, the hero Arjuna suddenly develops a disinclination to fight. Arjuna's decision leads to a prolonged dialogue with Krishna during which Krishna tries to resolve Arjuna's moral and metaphysical dilemmas in 700 verses. The way in which Krishna seeks to guide Arjuna has endeared the text to the Hindus as a guide to their faith.
3. Tantric Literature
Tantra represents another vast body of Hindu literature. After centuries of neglect, it has gradually begun to receive fuller recognition. The word tantra has two meanings. In one sense it refers to sacred literature which appeared from the 5th century onward and focused not only on Vishnu and Shiva, but also on the cults of earlier deities: Ganapati (another name for the elephant-headed god, Ganesha), Kumāra (a son of Brahmā), Sūrya (sun) and Shakti (the goddess). The second sense restricts tantra to texts that deal with the worship of Shakti.
Hindu Practices
1. Om: Sacred Symbol and Sacred Sound
The sacred syllable om or aum functions at many levels. Hindus chant it as a means of meditating on the ultimate reality and connecting with the innermost self (ātman) and Brahman At one level, om possesses a vibrational aspect apart from its conceptual significance. If pronounced correctly, its vibrations resonate through the body and penetrate the ātman. At another level, the three sounds that constitute the syllable—a, u, and m—have been associated with the states of waking, dreaming, and deep sleep, states to which all life can be reduced. Thus, by repeating the syllable the chanter passes through all three states. Other associations of the three sounds are with the three states of the cosmos—manifestation, maintenance, and dissolution—and with the three aspects of Ishvara who preside over these cosmic states: Brahmā, Vishnu, and Shiva. Om thus functions at a practical level as a mantra and at a cosmic level as signifying the trinity.
2. Guru: Teacher
Spiritual authority in Hinduism flows from enlightened sages called gurus. The guru is someone who has attained realization and acts as a guide for other human beings. He or she guides the individual seeker of truth and self-realization to the appropriate deity, practice, or yoga within Hinduism. The disciple's goal is to transcend the need for a guru through direct experience of the divine and self-awareness. Having a guide is considered critical for traversing the complexities of spiritual practice and self-discovery. The guru thus constitutes an important center of spiritual activity in Hinduism. Numerous Hindu hymns express adoration for the guru.
3. Yoga: Paths to Brahman
How do we proceed if we wish to rise toward Brahman? Hindu thought takes the personality of the seeker as the starting point. It divides human personalities into types dominated by physicality, activity, emotionality, or intellectuality. The composition of our personality intuitively predisposes us to a type of yoga—that is, a path we might follow to achieve union with Brahman. Although many people associate the word yoga with a physical discipline, in its original Hindu meaning yoga refers to any technique that unites the seeker with the ultimate reality.
Someone who practices yoga is called a yogi. The chief texts dedicated to Yoga are the Bhagavad Gita, the Yoga Sutras, the Hatha Yoga Pradipika and, as their philosophical and historical basis, the Upanishads. Paths one can follow to achieve the spiritual goal of life (moksha, samadhi, or nirvana) include:
* Bhakti Yoga (the path of love and devotion),
* Karma Yoga (the path of right action),
* Rāja Yoga (the path of meditation) and
* Jñāna Yoga (the path of wisdom).[12]
An individual may prefer one yoga over others according to his or her inclination and understanding. For instance some followers of the Dvaita school hold that Bhakti ("devotion") is the only practical path to achieve spiritual perfection for the majority of people, based on their belief that the earth is currently in the age of Kali yuga (one of four stages, or epochs, that are part of the Yuga cycle).[41] Practice of one yoga does not exclude the others. In fact, many schools believe that the different yogas naturally imply, blend into and aid other yogas. For example, the practice of jnana yoga, is thought to inevitably lead to pure love (the goal of bhakti yoga), and vice versa.[42] Someone practicing deep meditation (such as in raja yoga) must embody the core principles of karma yoga, jnana yoga and bhakti yoga, whether directly or indirectly.
Bhakti Yoga
The bhakti traditions emphasize cultivation of love and devotion for God as the path to perfection. Followers of bhakti typically worship God as a divine personal being or avatar, such as Rama or Krishna. Followers of the bhakti path strive to purify their minds and activities through the chanting of God's names (japa), prayer, devotional hymns (bhajan) and treating all living creatures with compassion. Bhakti followers seek to enjoy a loving relationship with God, rather than seek to merge their consciousness with Brahman as the followers of jnana yoga and raja yoga do.
Karma Yoga
The followers of karma yoga seek to achieve freedom by acting without attachment to the results of their actions. According to Hinduism, action is inevitable, and has one great disadvantage—any act done with attachment to its fruits generates karmic or psychological bondage.[44] Followers of karma yoga follow the injunction in the Bhagavad Gita:
Many followers of karma yoga offer the results of every action to God, thus combining karma yoga with bhakti yoga.
However, it is possible for even an atheist to follow karma yoga by remaining mentally detached from the fruits of their actions. Benefits of karma yoga include purification of the heart, freedom from bondage to the ego, humility, and the growing understanding that Brahman is in all people.
Raja Yoga
The followers of Raja yoga seek direct experience of spiritual truth through meditation and yoga practices. Raja yoga is based on the Yoga Sutras of Patanjali, which has eight 'limbs' that describe the stages a yogi must pass through to reach the goal of samadhi. The eight limbs begin with right action (yamas and niyamas) and perfect meditative posture (asana), and continue with control of the body's life force (pranayama). From there, the yogi practices techniques of meditation that take him through the progressive stages of interiorization (pratyahara), concentration (dharana) and meditation (dhyana). The final goal of the raja yogi—and the eighth limb of Patanjali's Sutras—is samadhi, or oneness with Brahman.
Jnana Yoga
Jnana yoga is the path of wisdom, or true knowledge, and appeals to people with an intellectual nature. The jnana yogi typically practices the four interrelated means to liberation:
Viveka: discrimination between what is real (the immortal Atman, or true self), and unreal (the changing universe)
Vairāgya, dispassion for the pleasures of this world.
Shad-Sampat, the six virtues, which bring about mental control and discipline.
Mumukshutva, intense desire for liberation.
These practices lead to the unfoldment of wisdom (intuitive perception), rather than mere intellectual knowledge. Through discrimination and introspection, the jnana yogi eventually realizes the highest truth, that "I am Brahman, the pure, all-pervading Consciousness."
4. Satsanga: Fellowship
A popular form of participation in religious life is the satsanga, which literally means keeping company with sat (truth and goodness). The satsanga may consist of Hindus who gather for discussions of Hindu scripture or of a circle of devotees who have formed around a saintly figure. A saint ("sant" in Sanskrit) in Hinduism in someone who has realized the truth and attained recognition from the community for doing so. Other forms of worship that occur at satsangas are chanting or singing, especially devotional songs called bhajans. On religious occasions the chanting the om sound is considered particularly holy.
page revision: 1, last edited: 14 Apr 2007 11:05